How To Make A jQuery PDF To Flipbook
PDF to flipbook makers have done a U-turn in recent years. Advancements in web and flipbook technology have made marked improvements on the performance of digital catalog software.
Thanks to HTML5 and jQuery, web-based software has been revitalized, particularly now that the majority of searches are performed on mobile phones which typically have a slow 3G internet connection.
The slow load times on mobile devices compromise user-experience, so web developers are ditching heavy codes like Flash and replacing it with HTML5.
jQuery is part of HTML5. It is essentially a library of codes developers can lift and drop into their software. It's a code cheat book if you like, but a system that works well for developers of all experience levels and skill sets.
It is also a revelation for software manufacturers like pdf to flipbook service providers as it helps to improve their product and make it easier for people like you to use.
And you will not believe how easy it is to make a flipbook! It takes nothing more than dropping a pdf file into flipbook software and customizing your design. And thanks to jQuery, you don't have to be a graphic designer or a web developer to produce a professional looking flipbook that will dazzle and amaze your readers.
How to convert content into a pdf file
To make a flipbook, all you have to do is load a pdf file into the flippingbook software. However, flipbook technology will only accept pdf files do you need to know how to convert whatever document you are creating content in to a pdf.
So this is another benefit of using flipbook makers. You do not have to learn additional skills to create content, you can continue using whatever documents you are accustomed to.
For example, as a freelance content write, I usually work in Word. So to convert an article into a flipbook I right-click on my Word document in my saved folder and select "convert to PDF in Foxit Reader" from the drop down menu as seen below.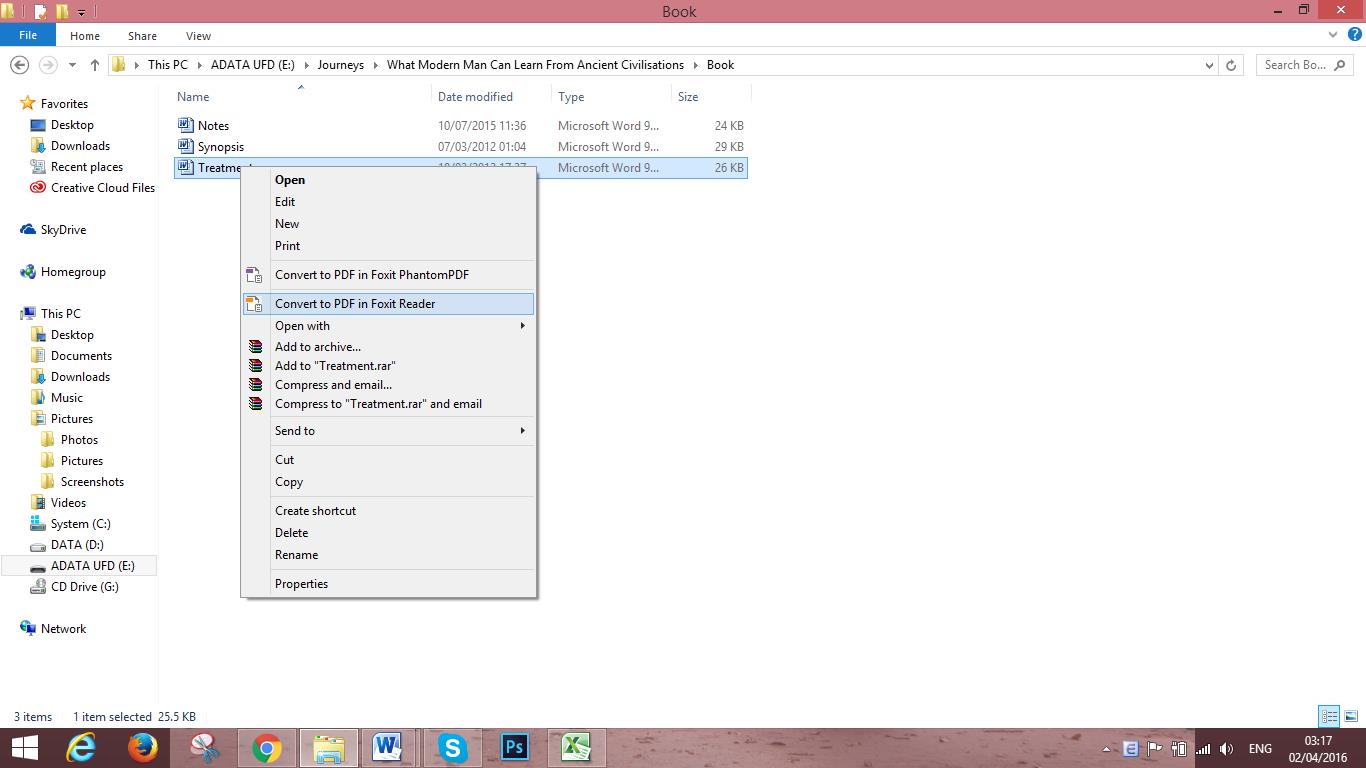 If you have Adobe or other pdf software, you will still follow the same process as the example above. If you want to convert a file in design software such as Photoshop you convert files to pdf from the drop down menu under "file".
How to upload pdf to flipbook software
This blog intends to remain impartial and promote flipbooks on an even playing field so we will not tell you which software package to buy. That decision will depend on your requirements and which software you find the most comfortable to use.
Uploading a pdf to flipbook is much the same in all flipbook software packages. The slight differences between flipbook software are the number of available features and the design of the templates.
So for the purpose of this blog we are going to use the Flipbook Tutorial from Flipbookbuilder.com just to show you how easy the process is. Obviously you need to follow the instructions of whatever flipbook software you purchase, but this video gives you a good idea of how easy it is to use flipbook software.
Customising your flipbook
It is when you reach the customizing stage that you will notice a difference between the various software packages. I recommend taking advantage of the free trial packages that are on offer to determine which flipbook maker is best for you.
jQuery flipbooks come will pre-designed templates, but they are flexible enough for users to customize and create unique flipbooks. The software also has a full colour palette so you can define your brand image and upload your logo.
Flipbook software is very flexible. If you do not want to use one of the ready-made templates you can always upload your own design. You can also upload your logo and any media files you want to include in your online marketing material.
Flipbook software is compatible with modern media files so you can upload videos and audio files as well as text files. This gives your flipbook versatility and more content options to engage readers.
PDF to flipbooks have the potential to give your content marketing strategy a boost. Create your own branded magazine, catalog, brochure or any other document that will benefit from visually appealing graphics and you have content that can effectively attract and engage readers.