Fancy Publishing A Magazine? Try A jQuery Flipbook
If you have ever harboured a dream of publishing your own magazine, you can realise that vision with a jQuery flipbook.
Flipbook software provides publishers with a powerful platform to create a brand magazine that replicates print magazines online. Boasting stunning visual graphics you can produce an online magazine that engages readers and drives traffic to your website.
Publishing a brand magazine using traditional methods is expensive, but jQuery flipbooks substantially slash the costs of traditional printing costs and shipping. You only have to produce one copy of a jQuery flipbook and you have an unlimited supply for a lifetime.
Digital catalog software is also easy to use and you do not need technical knowledge or graphic design skills to produce a magazine. If you know your way around a Word document or pdf software, you are already well ahead of the process.
Creating a flipbook involves little more than converting whatever content creation documents you are accustomed to, converting them into a pdf file and uploading the pdf document into the flipbook software.
Planning your jQuery flipbook
Let's start with the basics. Before you create any content do your market research and learn about your audience. You need to know what your prospects want and how you can reach them.
Bear in mind that you can distribute jQuery flipbooks anywhere in the world on multiple platforms. Use social media networks to connect with your audience and collect emails by using landing pages that require customers to leave their contact details.
Once you have built a target audience consider what content they are most likely to respond to. And remember your audience will be using multiple devices; mobile, laptops, tablets, smart TV's, so the content you create for your jQuery flipbook should be just as accessible for all as the content on your blog.
Fortunately for publishers, jQuery flipbooks are compatible with multimedia files so you can embed videos and audio files together with images in slideshares, carousels and photo galleries as well as individually.
Choosing the right jQuery software
Once the planning stage is complete you can concentrate your efforts on find the right jQuery software that is best suited to meet your business objectives.
I am not going to recommend any particular flipbook software as this blog intends to remain impartial, although I will advise you to trial several flipbook products to determine which you are most comfortable with. All the flipbook service providers offer free trials so take advantage of this.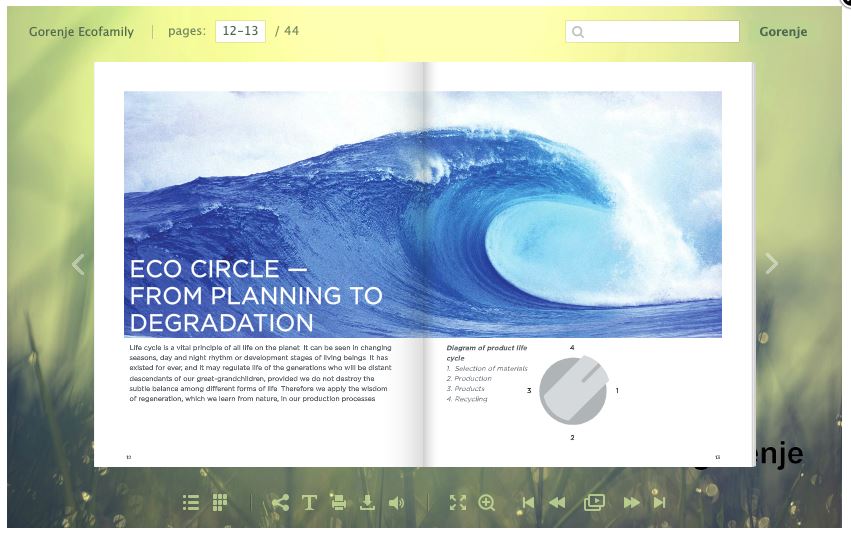 One word of advice I will give you about selecting a flipbook maker is to go for a product that uses HTML5 and jQuery as they work better in accordance to modern web technology.
Flipbooks with jQuery provide a better user-experience than Flash files as Flash is becoming out dated. They are heavy and take longer to load up, especially on mobile phones, and mobile users are not patient enough to hang around waiting for webpages with slow load times.
Quality content
It goes without saying that publications with quality content that engage readers perform better online and offline. When publishing a branded magazine, you having to be careful to provide information about your products rather than trying to sell them.
You are probably already aware that describing the features and explaining the benefits of your product is a marketing tactic that has worked for decades. To do this write your content in a conversational style that talks to the reader in a voice they trust.
Trust is a critical factor in online marketing, and producing a jQuery flipbook helps marketers earn trust. Because flipbooks have a sophisticated look and interactive features people are more likely to engage with your content and be persuaded to take the next step towards making a purchase.
You should also bear in mind that you can increase your revenues by selling advertising space to third party businesses. However, keep adverts to a minimum. If your flipbook is covered in ads and does not include enough quality content, the trust you could be earning will be proliferated.
By focusing on content your readers want increases the chances of guiding them to your website and all the way to the checkout. Digital magazines give your online business creditability that can win over the hearts and minds of consumers and jQuery flipbooks provide the solution to publish a brand magazine in the digital space.